Building the Mobile Home Basement
Step 1 – First step to building the walls is to pour a footing for the basement foundation. A typical footing is 16″ wide x 8″ deep. Set the concrete forms for pouring the footing. The forms must be set exactly square and the exact size of the home. Drain tile should also be laid at this time. 2×8 boards will work as forms.
Step 2 – Install ½" rebar and fill the footing forms with concrete and smooth.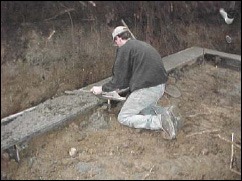 Step 3 – Construct the walls and set on the footing.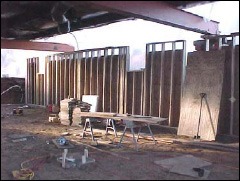 Step 3 Part 2. – The walls are constructed of green treated 2×8's one foot on center with ¾" green-treated plywood as sheathing on the outside. All wood is deep treated (.66) and normally special ordered that way.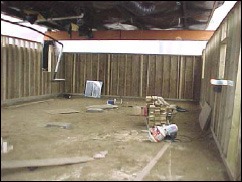 So materials can easily be taken in and out of the basement, an opening is left in the wall by the ramp until the floor is poured.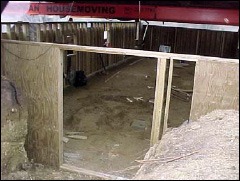 Step 4 – Stub in the basement plumbing. Pex tubing for the heated floor could also be installed at this time.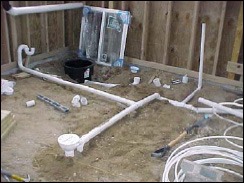 Step 5 – Pour concrete footing pads down the middle of the home for the support posts.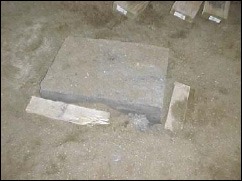 Step 6 – Pour and screed smooth the basement floor.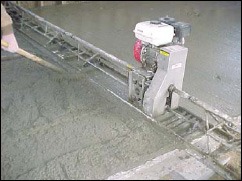 Step 7 – Pour one side of the basement floor the first day, then the other the next day.