Mobile Home Basement Options
It is not always necessary to dig out a mobile home basement with beams while it sits in place. There are always options. Below we show you some other variations that you can consider when considering a basement for your manufactured home.
To construct this basement, the home was set to the side by a house mover in preparation for cement walls.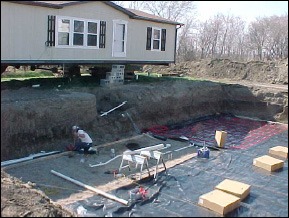 Sewer lines are set in place. In this case, the lines drain into a sealed bucket which is then pumped up to the septic system as it fills.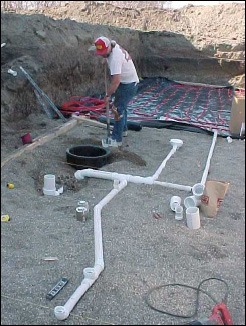 Also pictured is tubing for the heated floor. The cement floor will be poured right over the tubing. The tubing is laid in sections (zones) so different areas of the basement can be heated to separate temperatures. Each zone is one long piece of tubing. No connectors are to be used underneath the floor.
On this job the tubing is tied to pieces of rebar.
After the cement floor is poured and the basement is completed, the heated floor tubing is hooked to pumps, controls and a heater. A freeze-proof solution is heated and pumped through the tubes to heat the floor and the basement.