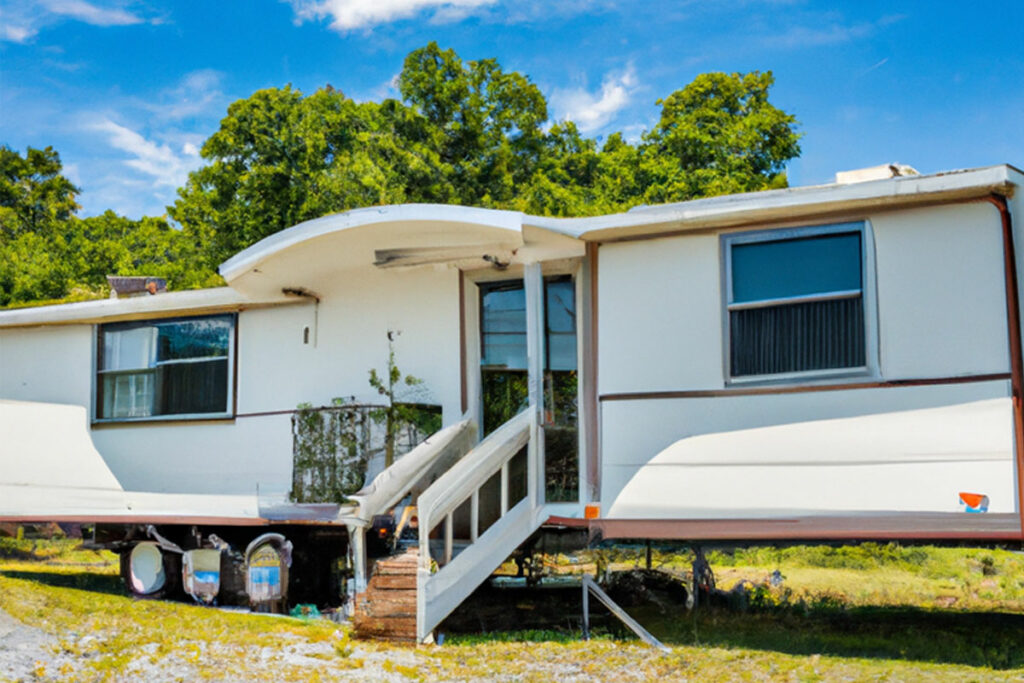 Are you on the hunt for an affordable mobile home? Repossessed mobile homes can be hidden gems in the housing market, offering an opportunity to own at a fraction of the typical price. In this guide, we will delve into the world of repossessed mobile homes, guiding you on how to find and purchase them. We will navigate through the intricacies of this niche market, ensuring you are better equipped to make a wise choice on whether a repossessed mobile home is right for you.
What is a Repossessed Mobile Home, also known as a "Repo?"
Repossessed mobile homes, often called "repo" homes, are properties that have been seized by banks or other financial institutions when the homeowner defaults on their loan payments. These homes are placed back on the market, usually by the financial institution or bank that originated the loan and are often sold at auction to the highest bidder. If a repo mobile home isn't sold at auction, it'll be listed on various platforms including mobile home and real estate selling platforms.
How to Find Repossessed Mobile Homes
There are several ways to find repossessed mobile homes:
Real Estate Listing Sites
There are many different online databases that specialize in foreclosures and have listings for repossessed mobile homes. Some of the more popular options are:
MHVillage – MHVillage offers the opportunity to filter properties by "Only Repossessions / Foreclosures"
Forclosure.com – Forclosure.com makes it easy to find foreclosed properties and they allow you to filter for foreclosures, pre-forclosures, bankruptcies, liens, short sales, and more.
Zillow – Zillow allows you to filter by zip code, state, or city. Then you can further filter for listing types "Foreclosure", "Forclosed", and "Auction."
MobileHome.net – MobileHome.net has a function similar to Zillow in that you can use the Advanced Search function to filter for "Distressed / Default / Foreclosure".
Banking & Lending Companies – These will vary widely based on your area and are likely difficult to track down.
Manufactuers & Dealers – Some of these companies finance their own sales. This leads to dealers and manufacturers having some inventory of repossessed homes from time to time.
Keep in mind this is not an exhaustive list. The options above are the easiest to use in our opinion. If you want to go deeper in your search, it will likely be more tedious via government auctions, individual mortgage lender websites, or "spammy" foreclosure consolidation databases.
Real Estate Agents
Real estate agents often have access to foreclosure sales and listings. Keep in mind many realtors may not be enthusiastic about being part of the process the process of buying a repossessed property can be daunting and it may not be worth their time in terms of compensation.
Auctions
Foreclosure auctions are often listed in local newspapers, but you can also contact the county's treasury office or clerk's office for more information. Additionally, online platforms and real estate websites may provide listings and details about foreclosure auctions. Note some of those are listed above. Some websites specifically cater to listing foreclosure properties and can provide comprehensive information about upcoming auctions, including property details, auction dates, and bidding processes. These platforms may require users to create an account or pay a fee to access certain features or full listings. It is advisable to regularly check these sources for updated information on foreclosure auctions in your area.
How to Purchase Repossessed Mobile Homes
Here are some steps to follow when purchasing a repossessed mobile home:
Consider Where You Will Place Your New Mobile Home: Banks may foreclose on a mobile home and land together, or they may simply seize the mobile home itself. If you already own a parcel of land and want to place your new mobile home on it, you will need to find a repossessed mobile home that is not sold in conjunction with the land.
Look for Auctions, Short Sales, and foreclosures: Once you have identified which area you want to focus your search for a mobile home on, consider looking for properties that are in various forms of distress. Use the resources we listed above to find mobile homes for sale.
Get Your Financing Ready: In some cases, a repossessed mobile home may be offered at such a low price that some individuals are able to pay cash for the home outright. However, in other cases, you may need to line up financing. It is critical to have your financing in place prior to submitting offers or bids for properties.
View the Property: You generally will be able to obtain a list of properties that will be available for consideration. Some may allow full inspections, while some may be drive-by only. "Drive-by only" means you are not permitted to set foot on the property prior to making an offer. These types of sales are more risky to the buyer as they are also often sold as-is. Be sure to consider which options you are most comfortable with and make your offers accordingly.
Things to Watch Out For When Purchasing Repossessed Mobile Homes
When purchasing a repossessed mobile home, there are several things you should watch out for:
Condition of the Home: Having the repossessed mobile home inspected is a crucial step to take. These repairs may include plumbing problems and leaks, electrical issues, moving and setting up an entire home, chronic roof, wall, or floor issues throughout the home, and horrible smells, bugs, and/or garbage everywhere.
Documentation: Repo mobile homes can be beneficial in terms of price, but you must ensure that you have all of the necessary documentation for the house.
Offer Process: Understand the offer process before making a purchase.
Read The Fine Print: When you are purchasing a property at auction or in foreclosure, you should understand what exactly your purchase entails. Read the fine print to determine if you will be required to pay off any related property tax liens or if you will be required to keep the mobile home in its current location. Many times it is a good idea to enlist the help of an attorney for this.
Advantages and Disadvantages of Buying Repossessed Mobile Homes
Repossessed mobile homes can be an affordable option for potential homeowners. Mobile homes that have been seized by banks because the former owner could not keep up with payments can serve as a cost-effective choice for individuals looking to become homeowners. It is important to weigh the advantages and disadvantages before making a decision.
Pros:
Affordability: Repo mobile homes are often sold at a lower price because they have been repossessed by banks and are usually auctioned off to remove the liability from the bank or lender quickly.
Condition: Despite being repossessed, these homes can still be in great condition.
Investment Opportunity: Thanks to their affordability, repossessed mobile homes can be a good investment.
Cons:
High Competition: There can be many interested buyers and investors, leading to high competition.
Extra Expenses: There can be hidden expenses associated with repo mobile homes. Mainly in the repairs and also for relocation, if needed.
Complicated Loan Requirements: Some banks might have extra loan requirements for repo mobile homes or for mobile homes in general. Some lenders may require land to be bundled as collateral.
Important Things to Keep in Mind
Legal Aspects
While there are foreclosure laws in place, they do not always apply to mobile homes. However, most states have laws that require lenders to provide borrowers with notice of impending foreclosure and the opportunity to pay off the outstanding balance and keep their home. State law governs the repossession process for manufactured homes.
Financing Options
You can qualify for financing with a mobile home. The same financial factors that go into the decision for a mortgage will play a role in your personal property loan for a mobile home. For example, it's possible to get a loan from the same sources as traditional mortgages, such as FHA and VA loans, as well as specialized manufactured home loans through Fannie Mae and Freddie Mac.
Market Trends
Manufactured housing continues to meet the need for affordable housing in the U.S., and there continue to be positive signs for growth. The United States manufacturing housing market is expected to grow at a CAGR of more than 5% during the forecast period.
Inspection
Before buying a repo mobile home, it's crucial to have it inspected by a professional. A home inspector can provide a detailed report on the structure, mechanical systems, and major components of a mobile home.
Renovation
If you're planning on renovating a repossessed mobile home, it's important to plan out your renovations carefully. Consider factors such as the condition of the home, your budget, and your renovation goals. Lenders may be interested in this and be able to offer additional loan funding for renovations and repairs.
Reselling
When it comes time to resell your repossessed mobile home, you'll want to make sure you've maintained the home well and made any necessary repairs or upgrades. This will help increase the home's value and appeal to potential buyers.
Good Luck!
Repossessed mobile homes can provide an affordable housing solution for many people. However, like any major purchase, it's important to do your research before making a decision. By understanding what repossessed mobile homes are, how to find them, how to purchase them, and what potential pitfalls to watch out for, you can make an informed decision that best suits your needs. We wish you the best of luck in your search!