Whether you are installing a new tub or shower, or replacing the drain on your old unit, here's all the parts you need for the drain. Everything is included but the plumber's putty and all-purpose cement for gluing ABS or PVC pipe. This type of drain is for all showers and tubs without an overflow. An overflow is an opening between the drain and spout which would allow the water to escape if the tub is filled too full. If you don't have that overflow, you need this drain.
Purchasing the tub and shower drain kit includes all pieces shown below.
INSTALLATION INSTRUCTIONS
Step 1 – Install pop-up drain into tub.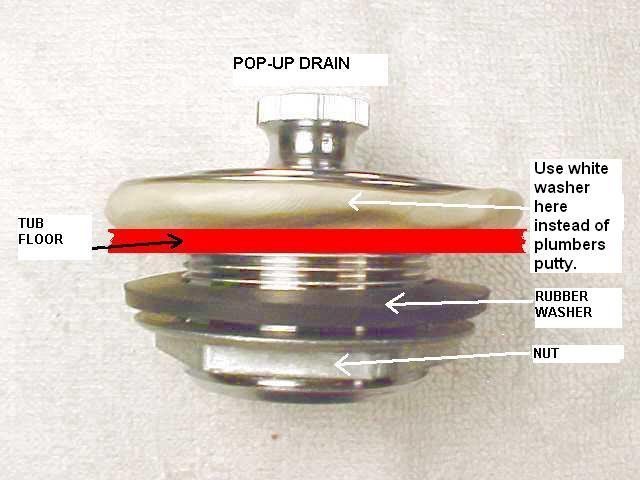 A) Remove nut and rubber washer from pop-drain.
B) Add the white washer (this replaces plumbers putty shown in the illustration).
C) Set pop-drain into hole of tub or shower.
D) Slide on rubber washer. Note that the rubber washer goes underneath the tub floor.
E) Screw on nut and tighten. You may have to hold the drain from turning while you tighten. Don't overtighten.
Step 2 – Test-Fit the Drain.
A) Slip swivel connector inside P-trap.
B) Slip female end of the p-trap 90-degree elbow onto the drain pipe.
C) Screw big swivel nut of p-trap onto the 90-degree elbow.
D) Add cloth washer and screw swivel connector to drain. You may need to use two washers to get a tight seal.
If all pieces fit well, remove for gluing. If pieces seem short, you may need to add onto the drain pipe, or shorten up the base of the swivel connector. Once a proper fit is made, finish as explained below: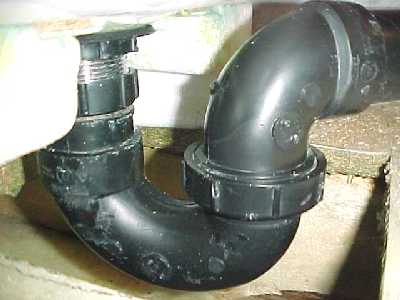 Step 3 – Install Drain Permanently.
A) Glue swivel connector to P-trap by applying all purpose cement to both the base of the swivel connector and the inside lip of the P-trap. Immediately slip base of swivel connector inside the p-trap, spin 1/4 of a turn, and hold for 1 minute.
B) Glue the 90-degree elbow of the p-trap to the drain line. Apply glue the same way as in step A, but be sure the adapter is positioned exactly as needed on the drain pipe (i.e. — normally that position is straight down. One tip is to mark its exact location before you removed it from the test-fit steps.)
C) Screw swivel connector to pop-up drain ensuring that the rubber washer is inside. Don't tighten just yet.
D) Screw big nut of P-trap to the P-trap's 90-degree elbow. Tighten nut.
E) Install cloth washer and tighten nut on swivel connector at the pop-up drain. An extra washer is enclosed as sometimes two washers will give you a tighter seal. Don't overtighten.
F) Check for leaks.
Installation Notes
• The swivel connector will not normally thread onto pop-up drains found in home improvement stores.
• If not yet found on this website, individual drain parts may be ordered separately.
• The swivel nut of this P-trap should thread onto the 90-degree elbow of your existing p-trap. If so, don't cut-off the old elbow if in good shape.
Click here for information on replacing a mobile home bathtub.