White Vinyl Skirting Repair Kit to quickly and easily repair skirting and much more!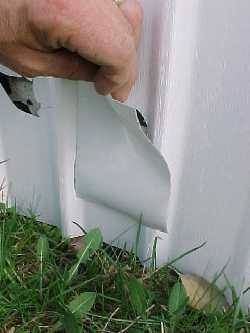 Permanently repair holes in white vinyl skirting with this weather resistant tape. Sticks forever and is RV resistant so the sun's rays won't bother it. This white rubbery tape is specially formulated by EternaBond for use on vinyl skirting and siding. It will not delaminate like most tapes do when used outdoors. Available in white only. Order an 8″x24″ piece below or click here for larger rolls.
INSTALLATION INSTRUCTIONS
Prepare surface by removing all dirt, grease, tar, oil etc. Surface must be dry and warm (above freezing).
Cut tape to cover crack.
Remove liner from back of tape to expose adhesive.
Place tape over hole or crack and smooth.