How many of you have hammered a nail in your walls to hang a picture, only to find the picture on the floor the next morning? If you live in a manufactured home, it's a common occurrence. It's no secret that the paneling or drywall used to construct the walls of a mobile home are thin — so thin they can't even hold a nail. Since nails don't hold, you try regular wall anchors — they hold for a while, but soon fail. We've found a solution — thin wall anchors.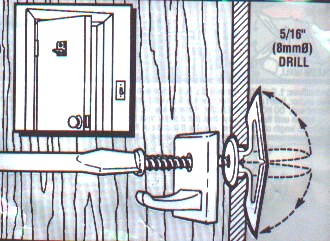 These new thin wall anchors are designed to hold in thin walls from 1/8 to 1/4 inch thick. Also, works on hollow doors. The wide backs give superb holding power that don't pull out. The thin wall anchors cost a little more than regular anchors, but will end your frustrations of hanging pictures and most everything else. To install, follow these instructions:
1) Drill a 5/16″ hole.
2) Squeeze the clips together and push into the hole.
3) Then with the enclosed rod or nail, pop the anchor open inside the wall.
4) Insert the #8 x 1-1/4 enclosed screw to hang your item.
You can find mobile home specific thin wall anchors (also known as hollow door anchors, hollow wall anchors, or togglers) in our mobile home parts store. See the video below for a presentation on the general principal behind how they work for hollow walls and doors.