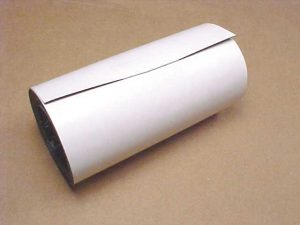 The very best repair and patching tape by Eternabond that permanently sticks and seals to anything smooth, dry & warm. Great for stopping leaks. Sticks to plastic, glass, metal, aluminum, polyethylene, rubber & zillions of other smooth surfaces. Perfect for craft projects. Not recommended for cloth-type surfaces.
Stick-n-Repair is waterproof and UV protected so it won't break down in the sun. Use indoors or outdoors. Available in white, gray or black.
Easy installation– no gluing.
STICK-N-REPAIR is the product to reach for when nothing else seems to work. This material sticks to practically anything smooth and won't come off. It's tough but flexible. It's waterproof. Interior or exterior use. To install, just peel back the release liner and stick (surface must be smooth, warm, clean and dry).
APPLICATIONS
Repair and seal metal air ducts.
Seal metal roof seams, gutters & downspouts.
Sticks permanently to glass, plastic or other slick surfaces.
Seal a crack in a porcelain sink or toilet.
Patch a hole or crack in a skylight.
Emergency fiberglass repair for boats, bathtubs, showers & more.
Repair a broken shelf or bin inside your fridge or freezer.
Seal cracked roof vents or air conditioner covers on the top of your RV or camper.
Apply over those stubborn leaking flashings.
Patch rubber roofs.
Seal cracked plastic sewer drain pipes.
Repair plastic and vinyl skirting — patch those holes made by the lawn mower.
Seal leaky window frames.
Fix a crack in your garbage can, bucket or jug.
Perfect for marine, sea and oceanside use. Salt has no effect on it.
Perfect for craft and hobby use, just cut to size.
Repair plastic tarps (not recommended for use on cloth or canvas).
Fix a cracked polyethylene RV or boat holding tank (double layer recommended). —-> see pic —->
… and hundreds of other uses!
WHAT IS STICK-N-REPAIR?
STICK-N-REPAIR is a self-adhering waterproofing material with a tough reflective white, black or gray surface. Made by Eternabond, so you know it has to be good! The sheet features multiple laminations of special high-density polymer films and a thick layer of rubberized waterproofing compound. The white TPO reflects the sun to lower rooftop temperatures and reduce energy costs. The films stabilize and reinforce the sheets and act as the first line of defense against leaks. The rubberized ETERNABOND adhesive seals tightly at the overlaps and around punctures and forms a long-lasting waterproof barrier. Requires no coating. Stick-n-Repair is also available in white, black and gray in widths of 2″, 4″, 6″, 8″, 12″, 24″, 36″ and 48″.
When special ordering, minimum quantities may apply for some sizes and colors.
Eliminates Leaks
Multiple layers of protection seal out water. Rubberized ETERNABOND adhesive won't crack or dry. Sticks to roof decks eliminates movement of water under the membrane.
Long Lasting
It lasts for 10 or more years and will not release in heat or cold (after an initial curing period of several hours).
Peel & Stick
Simply peel off the release paper, apply to almost any smooth, clean dry & warm surface — and the job is done. Doesn't even compare to duct tape or any other kind of tape. (Do not apply to cloth, canvas, underbelly or any deteriorating surface.)
Hundreds of Uses
STICK-N-REPAIR may be used for roofing, waterproofing, patching, and repair or any job requiring tough, waterproofing protection. It can be used on rubber, TPO, PVC, metal roofing, and so much more. Perfect for RV and boat roofs. Sticks to plastic, glass, metal, rubber and so much more!
INSTALLATION INSTRUCTIONS
Align sheet and apply to a clean dry surface. Carefully unroll and press into surface. Both STICK-N-REPAIR and surface temperature should be above freezing. A minimum surface temperature of 50-60 degree is best at the time of application and for several hours after applied. The warmer the better the application. Once applied, rub surface aggressively to activate adhesive and cure for several hours. STICK-N-REPAIR will stand up to the coldest of temperatures (-70F) without failing.
STICK-N-REPAIR bonds to itself at overlaps to make a permanent seam. No heat, glues, fasteners or special tools required. All you need is a pair of scissors or a utility knife. Simply overlap and your permanent seam is done. So simple!
Some surfaces will require cleaning and/or priming. Use EternaPrime for surfaces that are suspect. Surfaces that are severely deteriorated should be avoided. Do not install over tar or similar types surfaces.
LEAK TEST
Cut a hole in the side of a plastic pop bottle.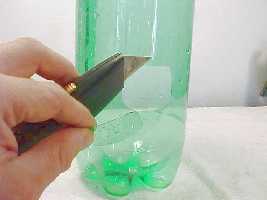 Peel back the liner on a piece of STICK-N-REPAIR.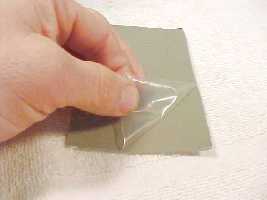 Apply STICK-N-REPAIR over the hole and rub aggressively to activate the adhesive.
After a few hours fill the pop bottle with water.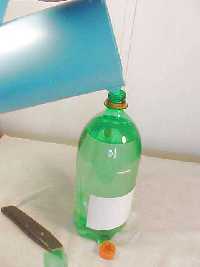 Put the cap on and shake the bottle. No leaks! Now try to remove the piece of STICK-N-REPAIR. Tough stuff!
PERMANENT SEAM TEST
Overlap one piece of STICK-N-REPAIR at least two inches onto another piece to create a seam. Wait a few hours and try pulling it apart. Impossible!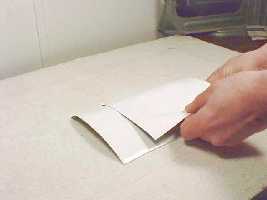 Put the seamed piece overnight in the freezer and try pulling it apart again. No way! Better yet, stick it to an empty soda can and in a few hours put it in the freezer. You won't be able to pull it off the can!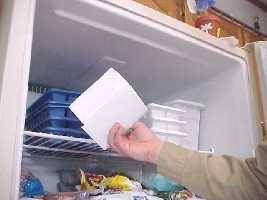 Drop the seamed piece into a pitcher of water for several days and try pulling apart. Still, can't be done!
TEAR TEST
STICK-N-REPAIR is basically impossible to tear. Also tough to puncture unless you use a real sharp instrument!