Install New Mobile Home Bath Tub
With drain installed, set new tub into place. Be sure that the skirt slips into the skirt track.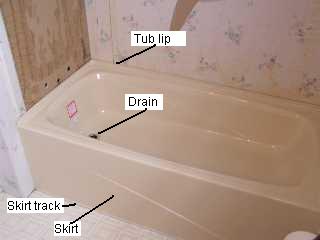 Secure tub to wall by driving screw through lip into wall stud after predrilling hole. Carefully use a countersink bit to round-out hole (below) so head of screw sets about flush with the lip. Snug but DO NOT overtighten as overtightening may crack the lip of the tub.
Install New Surround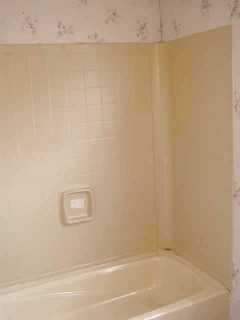 One rule of thumb when choosing a tub surround is to buy one with the least amount of seams. The more seams you have, the more chance it will leak even if sealed with caulk that will turn gaudy in a year or so. One-piece tub surrounds like the one illustrated here are preferred over the several-piece kits. Whatever you buy, pre-fit it now. Some kits requiring cutting and that should also be done now.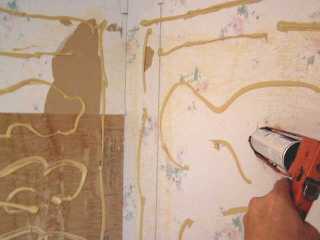 Tub-surround glue available in tubes is illustrated here. Other methods of gluing include spray glue and glue troweled on from a can. Here we outlined the surround on the wall and applied beads of glue inside the outline. Next, the tub surround is set into place and pushed into the beads of glue. Then the glue is 'aired' by pulling back the tub surround, waiting for 2 minutes and then reapplying. Every few minutes, give the surround a full rub-down to ensure it stays adhered to the wall.
Along with the glue, you may also wish to install plastic rivets to help secure the tub surround to the wall. The first picture shows what a plastic rivet looks like. Next predrill the hole. The hole does not need to be drilled into a stud. Then put a dab of caulk in the predrilled hole and insert the rivet all the way into the hole. Finally, tap the pin flush into the head of the rivet. That's it!

With the tub secured in place and the walls up, next is the faucet. If you wish to change or upgrade your faucet, now is the time before you make new holes in your tub surround. If your faucet comes with a template, use it to mark where to drill your holes. With the faucet in this example, a 1″ spade bit was used to make the holes. Two big tips — plug your drain to keep debris from falling into it. And, measure twice, drill once!
Apply plumbers putty to the back of the faucet and insert it into the holes. Secure from the back with the enclosed nuts.

Replace faucet ends, add shut-offs and screw waterlines to faucet. If you haven't already, be sure the drain is connected.
Caulk around tub surround using bathroom silicone and let cure for 24 hours.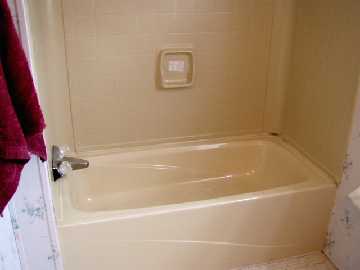 Hang a curtain and pour yourself a hot bath in your new manufactured home bath tub!