You know you have a dead animal when a sewer-like decaying smell gets worse every day. The hardest part of removing a dead animal from underneath your floor is to find the critter without tearing apart your belly and removing all the insulation. By knowing a few tricks you should be able to locate and remove the dead critter with very minimal damage to the belly.
First  – Get the Right Gear for the Job
Critters tend to move into warmer areas when the weather outside gets cold. So the first line of defense before Fall gets here is to be sure your skirting is solid with no holes and that your underbelly has no tears or gaps around pipes. But despite the best intentions, an occasional mouse or cat still seems to be inevitable.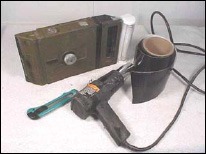 The first step to finding the darn critter is to narrow down in which part of the home the smell is strongest. Smell underneath your cupboards and down your floor registers. Once you've located the area of the strongest smell, it's time to take a trip underneath your home. Before crawling underneath, line-up the following tools and materials. Carry them in a little box to minimize the number of trips because you forgot something.
1) Flashlight or work light
2) Extension cord
3) Belly tape
4) Utility knife
5) Heat gun
6) Insulation
7) Damp rag
8) Periscope with light on top
Dead Rodents – Find & Remove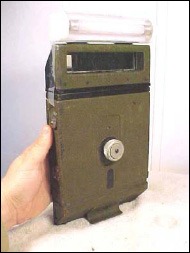 Yes, you read #8 right. A periscope with a light on top is the biggest secret to searching inside your belly without cutting a giant hole. Periscopes, this this model, can be found in some toy departments and army surplus stores. The periscope pictured here is from an army tank and can be occasionally found listed on various online auction sites (like eBay) for $30-$40. This periscope is particularly suited to the job because of the wide, clear prism. It's also very durable.
If you don't have a periscope or can't find one, don't fret. A flashlight and mirror can give you the same results.
Second – Find & Remove the Dead Rodent
Step 1 – Plug in your extension cord and crawl to the area you have determined has the strongest smell. Look for a sag in the belly and feel for pipes and heat ducts to be sure you won't cut into them. Give that sag a hit with your hand. If something bounces, sometimes we call that the 'dead cat bounce!' OK, just kidding. Besides, no one is lucky enough to find their dead critter that quick.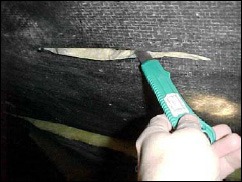 Step 2 – Cut an 8-12 inch long slit in the belly. With your hand widen a hole through the insulation. The secret to easily patching your bottom material is to make simple cuts that are easy to repair. One straight cut is easiest. If you need more room, then cut an X. A straight cut requires one piece of underbelly tape to repair, two pieces for an X.
When you make your cut and the raunchy smell about knocks you over, you know you're in the right area.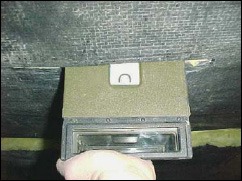 Step 3 – Turn on the light on top of your periscope and push it up in the hole. Look one way then the other. If you are having trouble seeing, a stronger light may be needed.
Again, if you do not have a periscope, shine a flashlight in the hole and use a make-up mirror to look around.
Step 4 – Repeat steps 2 and 3 until the dead critter is found. If it's not found on the first cut, make additional cuts nearby for a different look. Be sure to look next to heat ducts as critters like to lay where it's warm. Once found, make the opening bigger to remove it. Again, cut only a bigger slit or X. Even big X's require only 2 pieces of tape to repair. Wait until you've located the critter before beginning to repair your cuts, just in case you need to return back to a hole for another look. Sometimes it helps to use a stick in the hole to flatten down the insulation as you look.
Step 5 – To repair the cut(s) you made in the belly, refer to chapter 1 on repairing small holes.
Tip: One trick to help deter those little pests from even getting under your home is to spread mothballs underneath your home every year. At first, you may get a bit of a mothball smell inside the home, but it will go away. Even then, a slight mothball smell is definitely better than the smell of a dead, decaying critter!