They go by several names depending on your geography and the application: plumbing check vent, under counter vent, cheater vent, sink vent pipe, and perhaps others.
What is a Check Vent?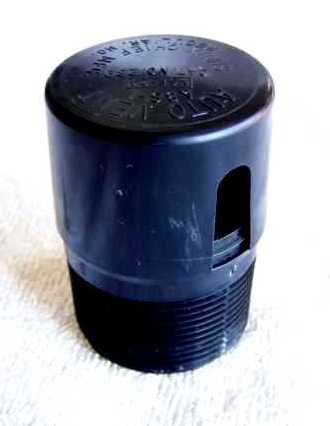 A check vent acts as an air vent for a drain. For drain lines to work properly, they must draw in air for waste water to flow away without gurgling. Each drain in a home must have its own air vent. Drains get air in one of two ways — by a vent pipe which extend up through the roof or a check vent (sometimes known as a cheater vent in site built homes).
Why are Check Vents Used?
In most communities, plumbing codes do now allow check vents to be used in site-built homes. HUD code does allow them to be used in manufactured homes. In manufactured homes, check vents are normally found just on sink drains. Generally (but not always) you won't find them on tub and shower drains and you should never find them on a toilet drain.
Installing a check vent is much simpler than running a pipe up through the roof. To save money, many mobile home manufacturers opt to use check vents under sinks rather than spending time to run a vent pipe up through the roof.
How does a Check Vent Work?
When water is released from the sink into the drain, the check vent opens and allows air into the drain pipe so the water can smoothly flow away. It opens by suction. However, if the drain pipe is plugged or running slow and the water starts to back-up, the check vent will close preventing any water from spilling. When not in use, the check vent remains closed to prevent any sewer gases from escaping.
How Can I Tell if a Check Vent Needs Replacing?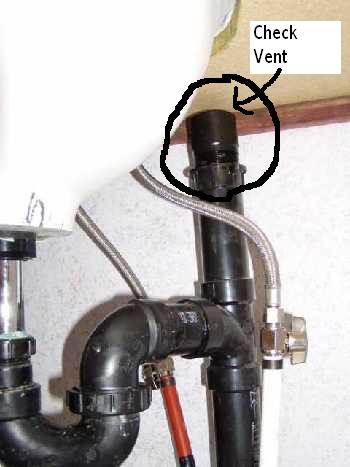 If you constantly smell sewer gases underneath your sink, then your check vent may not be closing properly and should be replaced. If you drain backs-up and you see waste water underneath your sink, your check vent may be leaking and should be replaced.
If your drain gurgles, runs slow or hisses, the problem may or may not be your check vent. Remove your check vent, set a pail underneath the pipe and then run water into your drain again. If the gurgling, slowness or hissing stops, then replace the check vent. If the drain still gurgles or runs slow, then the problem is not the check vent and more likely a plugged drain.
How Do I Replace a Check Vent?
Fortunately replacing a check vent is one of the easiest plumbing repairs you can make. Simply unscrew the check vent using a pair of big (slip-joint) pliers. To install the new check vent, first, apply some joint tape or sealant to the threads and screw back in. Tighten with a pair of pliers but don't overtighten.
You can find a quality check vent in our store using the link below that will replace most vents found under the sink.