Bricks, Blocks, or Concrete Skirting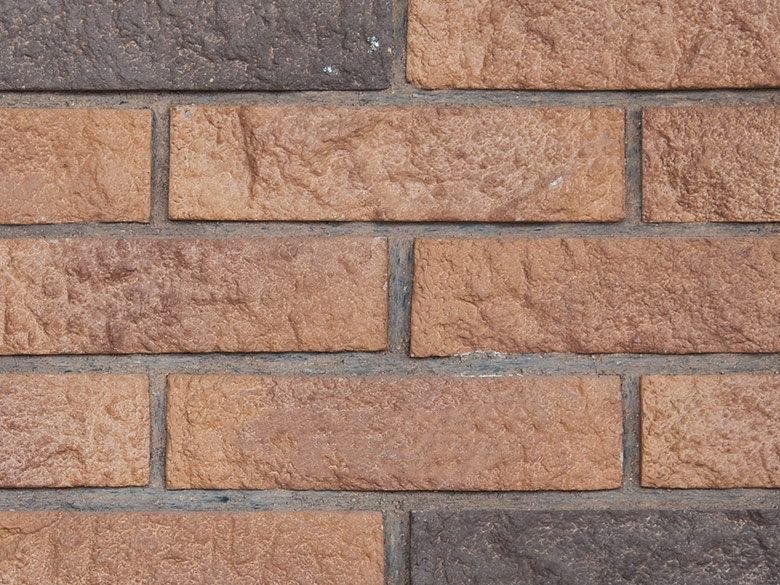 For a more permanent solution that can withstand decades of abuse, homeowners turn to some of the toughest building materials available today. The material and labor cost for bricks and blocks will be 10-15 times the cost of vinyl but you likely will never need to replace it for the life of the home. If you choose to go with concrete panels, they are a bit easier to install and can be custom made on site or pre-made to fit the application.
Foam Skirting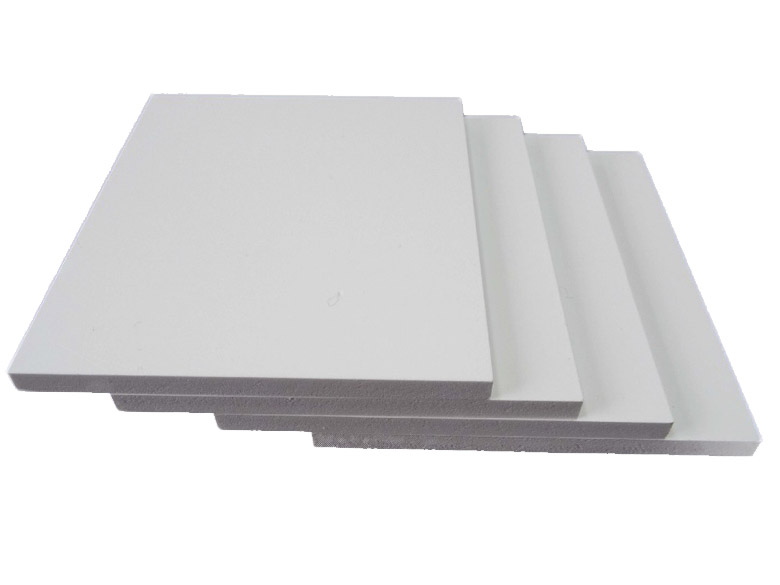 This type of skirting is more of a hybrid rather than a class of its own. It generally refers to any of the above options which feature a rigid foam backing that acts as an insulator for energy efficiency. Some manufacturers claim to reduce energy loss of the underbelly by 20% or more. These panels can be installed as a standalone solution, used as backing, or in front of existing skirting installations. These kits are often built around a frame that has pre-built channels to insert the panels or insulation. This is recommended by many mobile home experts but does come at an additional expense.
Wood Skirting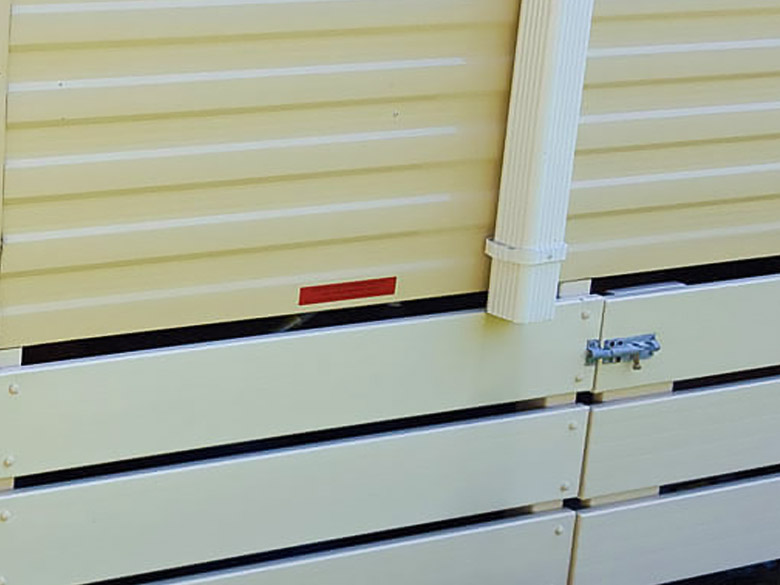 For anyone who is handy, wood is a popular building material that is the standard. Unfortunately, most wood materials are ill-suited for use as mobile home skirting due to the tendency to rot and invite insects. Variations on traditional wood material that are waterproof can be used. Steer clear of anything that is not sealed from water and treated to deter insects. Keeping the wood sealed is the important part of working with wood skirting. Some experts recommend sealing the edges of wood material as an extra precaution. The advantage to wood is that is relatively inexpensive compared to brick or stone and can be made to look incredible on any manufactured home.
Alternative to Traditional Mobile Home Skirting & Underpinning
We have seen all kinds of ways that homeowners have used underpinning with their manufactured homes. Chances are you have seen some great examples as well. Here are some of our favorites, though not all are advised:
Wood Lattice – Though it does a fine job of hiding the underbelly, it serves no purpose for insulation to keep out the elements and critters.
Reclaimed Metal Roofing – This is great if you can find it. When it has lost its usefulness as a roofing material, it still may have some years left in it as skirting material.
Carpet – Although it looked interesting, we are not sure it would do well in the long term with moisture and wind.
Railroad Timbers – Too expensive for most, but we know of someone who was able to get a large amount of them at no cost. They are rugged and will insulate well if installed correctly.
Vinyl Siding – Sometimes cheaper than vinyl skirting, yet more difficult to install unless a frame is built to support it.
Fiberglass Panels – These panels are used in many applications and can be found in building liquidations. We heard of someone recently getting several from a school that closed.
It is important to keep in mind that the material you choose needs to be able to accommodate vents and an access port. Other than that you can let your creativity loose!
Where to Buy Mobile Home Skirting
Buying mobile home skirting is the last step in the planning process. The choice on where to buy should also be a consideration. Factors such as price, service, support, and reputation should play a role in that decision. There are three main ways to purchase in our opinion:
1. Big Box Stores
Retailers such as Home Depot, Lowes, Menards, and other nationwide home improvement stores are easily accessible in most cities. Here you will find mostly popular and affordable skirting materials if they have any at all. These stores certainly will carry brick, blocks, vinyl and possibly even fiberglass panels. But, for more specialty mobile home skirting you will be forced to look elsewhere. The benefits of using these stores are that you can easily return or buy more of whatever you need to make the repair or replacement relatively painless in terms of acquiring materials. Unfortunately, you shouldn't expect much installation or troubleshooting help. Using big box stores is not recommended if you are unfamiliar with general contracting due to this fact.
2. Local Mobile Home Parts Store and Dealers
If you happen to live in a community where there are an abundance of manufactured homes, then you may be lucky enough to have a specialty mobile home parts store in your area. These shops may not always offer the most robust selection that is ready for purchase, but they usually have relationships with most manufacturers and can order whatever you may need. Mobile home dealers often will offer ancillary parts and upgrade services in addition to selling manufactured homes which are also worth pursuing if you are looking to buy more specialty items. Using a local shop will often come with better support at the expense of a higher cost. You may also not be given the benefit of returning or being able to purchase additional parts without a hassle or waiting period.
3. Purchase Mobile Home Skirting Online
Buying online is quickly becoming the preference for many skirting shoppers due to the limitless number of options, styles, colors and materials available. Most online retailers have done a great job helping with both planning and installation. They offer material calculators, videos walkthroughs for installation and even printable guides. They also often feature generous return policies and helpful staff if needed. You would be forced to wait for shipping if you under-ordered your materials, but most shops are quick to ship.
Some of our favorite shops are:
Which Type of Mobile Home Skirting is Best?
You have to consider your situation including budget and the look you are going for. You also must look at ease of installation and future maintenance required. Homeowners often forget that you may also have to consider the stipulations imposed by your mobile home park, local zoning, or city ordinances. It is not uncommon that only certain types of mobile home skirting are imposed by these entities. Be sure to learn the limitations before making your decision.
Installing Mobile Home Skirting
Each brand, type, and style of skirting will have its own specific instructions on how to install it. Since, vinyl is the most popular, the video below will show you the process for installing vinyl mobile home skirting in general terms so you may get a feel for if you are willing to do it yourself. If not, you can always hire a contractor to do it for you.
If you intend to do the work yourself, ensure that you have the proper tools. This list should include measuring tape, level, hammer, chalk tape line, snips (for vinyl and metal), saw (for some types of faux panels), utility knife, screw gun, and many other basic tools for home maintenance wouldn't hurt.
In addition, if you choose metal skirting, you can read our metal skirting installation guide here.
How Much Will Mobile Home Skirting Cost?
If you are doing a repair, you can expect that the expense could range from a few dollars to hundreds depending on the nature of the repair. For full replacements, the lowest cost vinyl will start around $300 and the finest faux panel kits can grow into the thousands. The larger your mobile home, the larger the bill will be for materials and labor.
How Much Time Will it Take to Install Underpinning for my Mobile Home?
For a newcomer to DIY work, you can expect to allocated 3-4 days to installing most types of mobile home skirting. If you choose to hire a professional, they often can complete the project in 1-2 days for most material types.
Final Thoughts on Mobile Home Skirting
This guide was designed to help you get familiar with the different aspects of choosing the best mobile home skirting for you. Whether you are dealing with a store, salesman or website, being armed with knowledge about what the options are and how it works will make sure that you get the best fit for your home and do so at a reasonable cost. We wish you the best of luck and hope this guide helps you make a better decision.