If you are here then you have likely tried several quick fixes for your mobile home windows and have perhaps had enough. At some point, you are left with the only option being the replacement of your mobile home windows. Though not a cheap endeavor, the benefits can be numerous, especially in older mobile homes. This guide will help you through the considerations for mobile home window replacements to ensure you make the right decision.
Why Do I Need Mobile Home Window Replacements?
We hope that you don't! After all, we would much rather you repair your mobile home windows rather than replacement when it is prudent to do so. But, when the fixes to your old windows become expensive and/or frequent, you are most likely left without a choice.
Outdated – Changes in taste often encourage the decision to replace windows.
Leaks – Hopefully you discover this before it becomes a costly repair. A leaky window or seam can be very detrimental to your mobile home.
Damage – Whether mother nature, a pet, or a misthrow of a baseball, any damage can force a needed replacement.
Excessive Rusting – Windows that have been beaten up by the elements can quickly break down and need replacing.
Malfunctions – Windows that fail to open, close, or stay that way can be something only a replacement can fix.
Energy Efficiency – This is becoming one of the most common reasons for mobile home replacement windows. On an older model mobile home, the savings on heating and cooling your home can really add up.
Rattle in the Wind/Rain – This is not always grounds for a replacement but the annoying sounds associated with this leads many homeowners to throw in the towel on the old window.
Hire a Professional or Install Yourself
Mobile home owners tend to be a handy bunch. So naturally, they often prefer to do it themselves. It keeps the costs down and makes sure the job is done right. But, it is important to note that replacing a mobile home window is not a simple task. Both the removal and replacement of a mobile home window can be an intricate process that could cost you dearly in the long run if done incorrectly. If you plan to put in a larger window than the original design will allow, this is especially true.
If you purchase your replacement mobile home windows from a dealer, they will often offer installation at a discounted rate to get the deal done. So consider that option when available.
How Much to Mobile Home Replacement Windows Cost?
Luckily, mobile home windows tend to be less costly than windows for stick built homes due to the standardized sizes. You can expect to pay $100-400 for a vinyl framed window. If you choose to purchase online, you may also be responsible for shipping which can run $50 or more. But, that shipping cost is often offset by the great savings you get online vs. buying in a local store.
Consideration for Replacing Mobile Home Windows
Style – There have been a lot of changes in design and the look of windows in the past few years. New windows can totally change the look and feel of your mobile home.
Size – Existing size of the window being replaced. Optionally you can consider a smaller or larger window if you have the tools and expertise.
Previous installation method – Flush mounted or mounted for lap-siding. Lap-siding installations are set so that the siding covers the window frame screws.
Opening – consider removing your old window and ensuring the opening is square. Out of square can be the cause of many issues with mobile home windows and this may limit your options for replacement options. Shims may be required for a small issue, while you may need to build a new frame for larger issues.
Code requirements – some windows in a mobile home are held to strict size requirements. Bedroom windows for example, if the only window, must be a certain size to allow for escape in the case of a fire.
How to Replace a Mobile Home Window
If you choose to replace your own mobile home windows, be sure that you have the necessary tools and materials.
Tools Needed for Mobile Home Window Replacement:
Drill with screw head bit or screwdriver
Screws
Putty Tape
Sealant
Tape Measure
Level / Square
Possible specialty tools depending on the window (check with vendor or manufacturer)
Step 1: Measure First
Always begin by measuring the window to be replaced. Be sure that your mobile home window replacement is the exact same size as the one being removed or have the materials/tools available to make an appropriate fit.
Step 2: Remove Mobile Home Siding
Check how your window is mounted to your mobile home. If it is flush mounted (installed over the siding) then you can skip the first step. If your window is a lap-siding mount, then siding will cover the window frame and screws.
Remove the siding around the window. You may have to go back several feet from the window to find a seam. If your siding is made from aluminum, be careful not to bend it as it is nearly impossible to remove the bend crease.
Step 3: Remove Old Window
Remove the screws around the frame of the window. Using the right size screw bit is important so you don't end up with stripped screws. Many times these screws are as old or older than your mobile home and can be tough to remove.
Using the same screws is not recommended. You should try to find screws that are longer than the originals for securing your replacement window.
Step 4: Remove Old Putty Tape & Apply New
Remove the old tape from the opening and from the inner frame. Some situations may call for a wire brush and/or some scraping. Apply new tape around the window frame. It is generally a good idea to take special care at the top of the opening, especially if you previously had issued with leaks or moisture.  This means doubling up on the tape at the top.
Step 5: Install Replacement Window
Set the new window in the frame. Try to level it as best you can and start by putting one screw (enough to hold it in place, not fully tightened) in on each of the four sides as you are careful to keep it level. Be sure the screws go straight in. Then add one screw to each side in a rotation checking the function of the window every few rounds to ensure that the window opens and closes properly.
Step 6: Seal the Replacement Window
Using silicone sealant, run a line along the top of the window where it meets the siding. Some choose to seal the entire window if you are concerned about moisture. Lastly, replace the siding removed.
Types of Mobile Home Replacement Windows
There is no shortage of options with windows in mobile homes. You can find windows that use vinyl, fiberglass, wood, and aluminum. Mobile home windows are generally described as a vertical slide, horizontal slide, and jalousie. Vendors will look to know what size window you would like but also the type: vertical or horizontal slide. Jalousie are generally not available in today's marketplace.
Window Components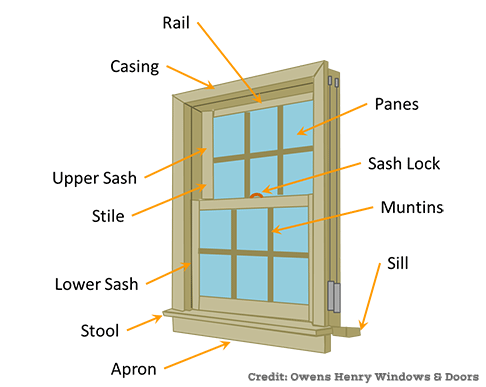 Single-Hung vs. Double-Hung Windows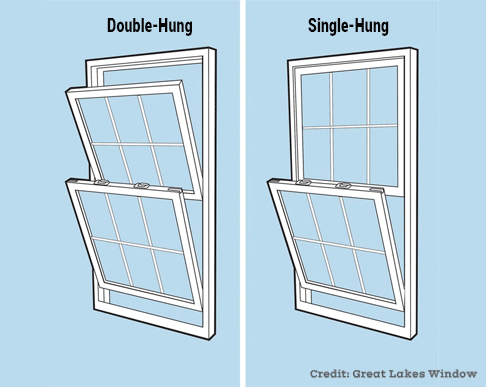 The term single and double refers to how many of the sashes move. In a single-hung window (above right), only the bottom sash slides up to open the window while a double-hung window (above left) features both an upper and lower sash that move.
Types of Materials Used in Mobile Home Windows
Windows are most commonly found constructed from vinyl, wood, and aluminum. In most modern mobile homes, vinyl is by far the most popular.
Vinyl Windows – Vinyl is popular primarily due to its low cost and durability. You can find vinyl windows in several colors although white is the most common. Vinyl does a great job of limiting heat loss in your home.
Aluminum Windows – Aluminum windows were very popular over the past few decades with manufactured home companies. They offer a low-cost way to add extra-tough durability to a window. These windows also create a great air-tight seal. The main disadvantages to aluminum windows are poor thermal protection and they struggle in the looks department.
Mobile Home Park Limitations
Some parks enforce restrictions on the types of windows that can be used. They often will provide guidelines of colors, styles, and/or materials. It is worthwhile to check before getting too deep in a window replacement project.
Additional Resources:
Installing Flush Mounted Window in a Mobile Home
Video Series Regarding Mobile Home Windows