This month our feature home is one Greg is helping fix up for a family member. Way to go Greg! Top picture is a 'before' picture of the kitchen area. The bottom picture is the progress so far.
Welcome and thanks for reading our Spring 2006 newsletter. In this issue you will find:
• Floor repair basics.
• What's HOT on our website.
• National check your water shut-off day!
• A story from 'The Life of a Mobile Home Repair Man.'
• Picture of the month.
• Tip of the month.
FLOOR REPAIR BASICS
by Mark Bower
Mobile homes and soft floors seem to go hand in hand. Generally, you'll find a soft floor by a door or underneath a window. Repairing a soft spot in a floor isn't hard or expensive, it just takes a little time. Below are the basics for fixing your floor. This example shows fixing the floor in front of a door. The old door was removed and will be replaced with a new door once the floor is repaired.
Pull the carpet back and here's what that soft spot in the floor may look like.


Cut out the bad spot. Clean off the tops of the old floor joists. Add blocking where new floor will meet the old floor. An air nailer makes quick work of installing blocking.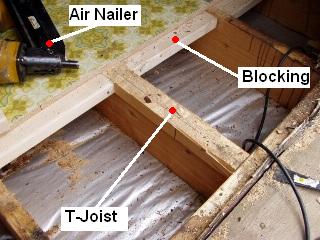 Cut and screw plywood into place. When cutting out a bad spot in front of a door, be sure to cut to the next floor joist on both sides of the door.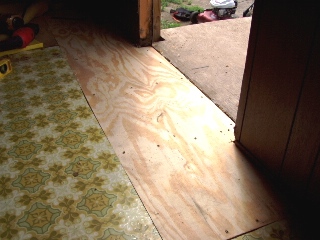 WHAT'S HOT ON OUR WEBSITE
Furnace and A/C Parts. Along with Coleman parts, we've also begun to add Nordyne parts which include Intertherm. Also available are wiring and parts diagrams, along with troubleshooting help.
Whether you're repairing a cracked bathtub or a hole in your vinyl skirting, our line of Stick-n-Repair tapes will give you a quick fix.
We wrote the manual on mobile home repair. The Manual for Manufactured/Mobile Home Repair & Upgrade is jam packed with pictures and ideas for repairing and upgrading your mobile home. Now on sale for the spring fix-up season.

Are you building an addition onto your mobile home? L.J. Wright's manual titled Manufactured Home Additions and Roofed Decks will get you headed in the right direction. Grab your copy HERE.
NATIONAL CHECK YOUR WATER SHUT-OFF DAY
by Mark Bower
April 2 is 'national check your water shut-off day.' We at mobilehomerepair.com have started this national day because we've found that maybe 3 out of every 10 people know how to shut off their water. If you missed that day, honor it now.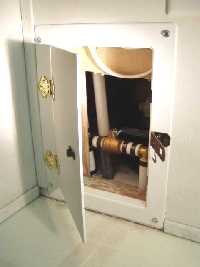 On 'national check your water shut-off day', you need to know where to shut off your water and to verify if the shut-off valve does indeed work. You also need to inform your family members how to shut off the water.
Sure, hardly no one dies because a waterline broke, but knowing where your water shut-off is could save you hundreds if not thousands of dollars in repair bills and a lot less headaches.
This is also the time to assess whether or not your current water shut-off is easily accessible in case of an emergency. If not, make plans to have one installed where everyone in the family can shut off the water.
In my home, our 8-year-old son knows how to shut off the water. Normally when we leave overnight, we shut off the water for good measures. When we return, my wife and son knows exactly what to do to turn it back on. Does yours?
It'll take a few years for 'national water shut-off day' to become known, but have to start somewhere. I can't believe the insurance companies don't harp in this subject.
A STORY FROM 'THE LIFE OF A MOBILE HOME REPAIR MAN'
by Mark Bower
I don't know how long you have to live till you see it all, but I'm definitely not there yet. Last Fall I got a call from a customer who's home was damaged in a tornado. Instead of repairing a home, he bought a new modular home. This isn't a mobile home, but a home that's built off-site then moved to their foundation. Everything is built to regular house codes.
Anyway, he called and said since they've owned the house, they've had a sewer smell that just won't go away. He said the builder has sent some bubba out several times and has not found the problem (although each time the bubba shows up, he does something odd and claims the problem is fixed). The customer also had one other plumber out, and he couldn't find the problem either.
Well, I thrive on solving problems that others can't, so I was glad to come out. I got up on the roof (it wasn't snowing yet!) and took a look at the vent pipes. Looking down one vent pipe I could see water standing. Hmmm, that definitely ain't normal. So I ran my sewer snake down thru the vent and it stopped and wouldn't go any further. Hmmmm. I never did figure out why — just sort of thought that maybe a test cap wasn't removed and I wouldn't know that for sure without tearing open a wall or trying a smoke test. That wasn't going to happen today tho. Oh, I should also note that the drains themselves worked fine — nothing plugged.
So I went in the house and started looking at all the drains. I put my nose down and smelled every drain. I could only smell sewer gas on the tub drains. Hmmmm. So I figured maybe the p-trap on the tub was leaking or cracked or whatever. So I crawled under the home and looked at the p-traps for the tubs — and holy smokes!! When they built this house, the builder forgot to put p-traps on the tubs! No wonder sewer gas was coming into the home like crazy. Oh my oh my. I had one happy customer knowing that something was finally.
I handed the customer my bill along with the phone number to the South Dakota plumbing commission. I said this home is suppose to be built to their plumbing code — you should report this, as the commission may wish to do their own inspection, and maybe even do a smoke test and see what is plugging the vent. My customer said they'd be glad to call the plumbing commission.
To this day my head is still shaking at finding bathtubs installed in a regular house without p-traps. I've never found that in a mobile home! These people have had so many problems with their new modular house, that they wished they would have just bought a regular mobile home.
My customer told me they've been trying to contact agencies who could help them make the builder fix the numerous problems they had. I asked who have they been contacting. They said the Better Business Bureau, Consumer Protection and agencies like that. I said that's fine, but those agencies don't have any 'bite'. They generally just gather data and put names in data bases. I said if you want to talk to an agency with some bite, you got plenty reasons to talk to the Plumbing Commission. I said the Plumbing Commission has no jurisdiction over plumbing inside a mobile home, but you don't have a mobile home. I said they'll probably eat this stuff up — and believe me, they aren't afraid to hand out fines or threaten jail sentences if code isn't followed and corrected within a short time frame. Same can be said for the Electrical Commission. Agencies like those have 'bite'.
I kind of chuckled at myself. If the Plumbing Commission comes to inspect, I hope they bring a camera. To renew my plumbing license, I have to attend a class every couple of years. At those classes they have Powerpoint presentation with pictures of some really dumb things they've seen. I'd laugh if I saw pictures of those tubs without p-traps in the next class!
PICTURE OF THE MONTH
"Uhh, Ma — I know gas is expensive this winter, but perhaps we should turn up the heat a little more. Seems like the toilet don't flush right when the tank is solid ice!"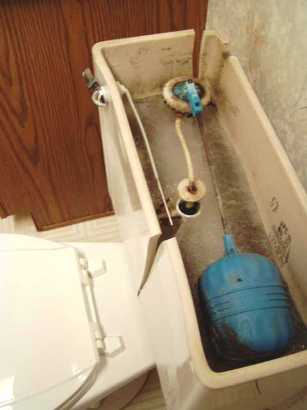 TIP OF THE MONTH
Cutting Metal
Whether installing metal skirting or a corrugated roof, two shears will make cutting the metal a breeze. First is an electric shear. These hand-held electric shears are perfect for cutting flat metal. Try cutting a piece of corrugated metal lengthwise with a hand snips and you'll understand just how great using a shear can be. These days you can purchase a off-brand set of shears for under $50 — well worth the cost even for a small job.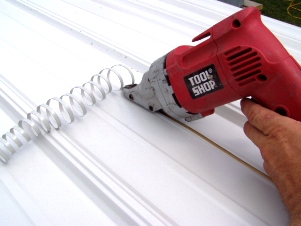 The next must-have tool is a shear. This looks like a giant paper cutter. A shear is used for cutting corrugated metal to different lengths. Simply slide the entire piece of metal into the shear and quickly pull down the handle. One 'swoop' and it's cut — clean and simple. It sure beats the flying sparks and metal from a circular saw. Shears are generally available to rent or borrow from home improvement stores that sell the corrugated metal.