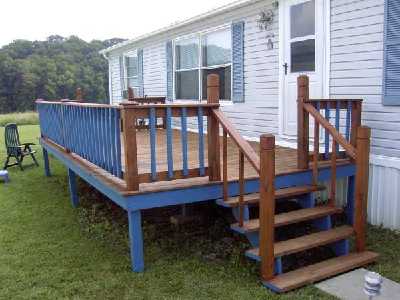 This month we are featuring Steve Penstone's home of Grantville, PA. Nice deck Steve!
Your home could be featured here!
Welcome and thanks for reading our Spring 2005 newsletter. In this issue you will find:
• Gas or electric water heater?
• Converting from a gas water heater to electric.
• Coleman furnace parts
• National check your water shut-off day!
• A story from 'The Life of a Mobile Home Repair Man.'
• Roof-Overs in pictures.
• NEW MANUAL — building an addition.
• Maureen's visit with a home inspector.
• Picture of the month.
• Tip of the month.
• Wanted: a copy of your old furnace manual.
GAS OR ELECTRIC WATER HEATER?
by Mark Bower
Dear Mark: I have a sealed combustion gas water heater in my home. The water heater is nine years old and not looking so well. I priced a new water heater and the cost was over $550 WITHOUT installation. Are gas water heaters still the way to go? Jemina in Sioux Falls, SD.
Dear Jemina: When you ask if gas water heaters are still the way to go, I assume what you are really asking is whether or not gas water heaters are still more efficient than electric. The answer is 'no'. Let me explain why.
Water heater manufacturers must display on the unit itself the estimated annual operating cost. If anyone has recently made a trip to the local home improvement store to examine those stickers, you'll notice that electric water heaters cost twice as much to operate than natural gas. Hmmmm. Take a closer look at those stickers and you'll find that many manufacturers are still quoting energy rates from 1994! Back in 1994 it did cost twice as much to operate an electric water heater than gas (assuming no special price breaks were given on electricity as some cooperatives may do). So for the most part, those stickers from some companies are worthless.
Computing the annual operating cost of a gas water heater is tough to do because gas prices fluctuate monthly. I recently spoke to a retired technician who specialized in gas and energy usage, and he said that when natural gas costs reach 91 cents a therm, they pretty much equal the cost of operating an electric water heater. Right now (February 2005), natural gas in my area is $1.44 per therm. According to the technician, right now it's costing me a lot more to operate a gas water heater than electric.

Then there's the cost of the water heater. At the time of this writing, a person could still buy an electric water heater with a 6 year warranty for $190-$240. As you stated in your letter, sealed combustion gas water heaters designed for manufactured homes are $550 or more. If you have an outside access to your water heater, then you may be able to get by with a standard gas water heater as long as its approved for a manufactured home. Remember, if you own a manufactured home, you can only use a gas water heater approved for manufactured homes. It's against the law to use anything else. Electric water heaters aren't so critical.
To answer your question, I would replace your sealed combustion water heater with an electric unit based upon today's energy costs and water heater prices. Of course you also need to consider whether or not you have available space/amps in your fuse box to install an electric water heater.
Do keep in mind that new government regulations and the price of steel have really impacted the price of a water heater. Many price increases have already been passed on, but sources are telling me to expect even more prices increases this coming year mainly due to high steel prices. I'm told by retailers that upcoming price increases could easily add another $100 to the price of a water heater. Some home improvement chains, Menard's for example, is stocking up their stores big-time trying to head-off that price increase (or cash in on it – however you wish to view it).


CONVERTING FROM A GAS WATER HEATER TO ELECTRIC
by Mark Bower
Is your gas water heater on the fritz? If you've priced new gas water heater heaters for manufactured homes, your probably still in shock and possibly considering an electric water heater. If your worried about electric water heaters being less expensive to operate, read the article above (if you haven't already). Even if gas prices in your area are cheaper than those indicated in the above article, the added cost of a gas water heater may still be too much to recoup in the small savings you may (or may not) receive by using gas. With gas higher than ever at the time of this writing, I very much doubt your seeing any savings.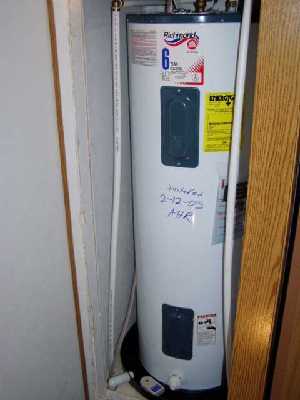 The biggest factor in converting from gas to an electric water heater is whether or not your current fuse box has the room for one more 220 volt circuit. That must be determined or rectified if you wish to install an electric water heater. If you have room in the fuse box, then click here for details on converting from a gas water heater to electric.
COLEMAN FURNACE PARTS
New to our website shopping cart is Coleman Furnace Parts. Some of the more popular parts are listed in the shopping cart.
If you don't see the part you are looking for, ask us. If the part is still being made, we can get it
and often ship it the same day. For information on troubleshooting your own furnace, Click Here.
NATIONAL CHECK YOUR WATER SHUT-OFF DAY
by Mark Bower
April 2 was 'national check your water shut-off day.' We at mobilehomerepair.com have started this national day because we've found that maybe 3 out of every 10 people know how to shut off their water. If you missed that day, honor it now.
On 'national check your water shut-off day', you need to know where to shut off your water and to verify if the shut-off valve does indeed work. You also need to inform your family members how to shut off the water.
Sure, hardly no one dies because a waterline broke, but knowing where your water shut-off is could save you hundreds if not thousands of dollars in repair bills and a lot less headaches.
This is also the time to assess whether or not your current water shut-off is easily accessible in case of an emergency. If not, make plans to have one installed where everyone in the family can shut off the water.
In my home, our 7-year-old son knows how to shut off the water. Normally when we leave overnight, we shut off the water for good measures. When we return, my wife and son knows exactly what to do to turn it back on. Does yours?
It'll take a few years for 'national water shut-off day' to become known, but have to start somewhere. I can't believe the insurance companies don't harp in this subject.
A STORY FROM 'THE LIFE OF A MOBILE HOME REPAIR MAN'
by Mark Bower
Last fall I got a call to come fix a toilet. The bolts holding the tank onto the bowl had become a bit rusty and water was dripping through.
So I stopped over and assessed the situation. I said you definitely need new tank bolts, but while the tank is off I'd suggest also replacing the waterline connection and flush valve because replacing the flush valve requires the tank to be removed. The customer asked me if both parts were leaking. I said not yet, but your days are numbered. Then she quoted her Dad's famous saying, "if it's not broken, then don't fix it." I mentioned that in this case, preventative maintenance should prevail over her Dad's famous saying because if done now it would only add $20 to the total bill.
I was over-ruled so I replaced the tank bolts, collected my bill for a service call and left.
Two weeks later I got a call saying that she had water all over her floor from the toilet. I stopped out and sure enough, the waterline connection was leaking. So I replaced that, collected for another service call and left.
Then this past January she called again. Her sewer pipes were frozen solid. I stopped over, thawed the pipes, replaced the leaking flush valve in the toilet and collected a $200 service call and left.
I wonder if she still quotes her Dad's famous saying?
ROOF-OVERS IN PICTURES?
by Mark Bower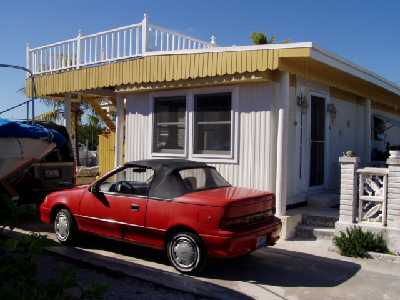 As spring is now upon us, some of you may be considering an upgrade to your home. Maybe you need a new roof. Maybe you'd like to add on. Maybe you'd like to do both! If so, a roof-over may be just the project for you.
What is a roof-over? A roof-over is basically a new roof for your home. The new roof, however, is not attached to your home but is instead self- supported by poles extending down the side of your home. The home itself doesn't support the roof. While building a roof-over, many homeowners simply extend the roof to include an addition, carport, entry or whatever.
CLICK HERE to see a variety of roof-over pictures.
Instruction manual for anyone building an addition!
MANUFACTURED HOME ADDITIONS & ROOFED DECKS
Introduction Special – $24.95 (regular $29.95)
If building an addition or deck is on your 'to-do' list this year, then this 107 page instruction manual written by L.J. Wright is a must-own.
L.J. Wright has spent 25 years building decks, carports and additions for manufactured homes. Mr. Wright knows his stuff! If anyone is more qualified to write this book, I don't know who. Mr. Wright dedicates this manual to his teacher and mentor Bill Ramier.
Mr. Wright wrote this manual to show you how to design, draw and build an addition or a covered deck. You'll find more details in this manual than you'll probably want to know including diagrams and information on obtaining building permits, footings, construction techniques and methods to attach (or not attach) the structure to your home.
Please note that this manual does not cover building roof-overs although some of the same ideas would apply. Perhaps we can convince Mr. Wright to make that his next book!
MAUREEN'S VISIT WITH A HOME INSPECTOR
by Maureen Coverdell
Editor Note: Maureen is from Sun Valley, NV, and lives in a 1973 24×65 pre-hud mobile home with a metal roof. This past winter they had a harsh winter with several feet of snow which collapsed their carport but left the metal roof on their home unscathed. Below is her conversation with a local inspector as to why her roof survived so well.
A few weeks back, I finally got to speak to a friend that owns a roofing company here in Northern Nevada. For those of you new to the board and newsletter, I was very curious about our roofs after the intense snowstorms last Winter. We had the conversation over the phone, so it turned into more of an interview with a roofing expert. I took notes on a question and answer basis. So, I'll pass on the information in that form. Ken's answers are basically word for word as he answered my questions. I took notes.
Maureen: I noticed during the storms that most of the roofs on mobile homes that suffered a lot of damage were 1980 to early 1990 model homes. These were all peaked roofs, with shingles. Was this a manufacturers defect?
Ken: Basically, yes. This was the industry's first attempt to take a mobile home and make t look like a stick built home. Unfortunately, they didn't use the same materials or installations methods that code requires for a stick built. The trusses and decking were substandard and the asphalt shingles used were usually, pretty cheap. They were trying to find a way to construct a roof that was light enough as far as weight was concerned for a mobile home and at the same time keep mobile homes affordable.
Maureen: So, in the 1990's sometime, standards got a bit a better?
Ken: Yes, by the mid 1990's they found better ways to construct peaked roofs. They also started using better materials. I'm not positive about this, but I believe HUD had a hand in this about 1995. We don't do many mobile homes roofs, except in the outlying areas of Nevada and Utah, so I'm a little rusty on codes there. But if you notice, it was in the mid-nineties that you started seeing gables on manufactured homes. This was about the time that the industry felt they had a good feel for peaked roofs on homes.
Maureen: So, in your opinion, what was the life span of those roofs built in the 1980's early 1990's?
Ken: About 10 years in our climate. Those that haven't been maintained, most likely need a complete new roof. New decking and roofing material.
Maureen: What would you suggest people with homes of this vintage use for decking and roofing material?
Ken: Metal roofs on manufactured homes are great of any age! Stick built homes around here are using metal roof more and more.. And they look sharp! For a manufactured home, I suggest plywood decking (on peaked roofs that need new decking) with the lock type aluminum panels. These have a thick stryofoam insulation, anywhere from 2 inches to 4 inches. The panels interlock to keep out moisture. Many roofing companies custom make these systems, the names vary all over the United States. They are also light enough in weight that it won't stress a mobile home's trusses. You also have the option to create an overhang, which most mobile homes don't have.
Of course, any installation will vary depending on the condition of the existing roof and trusses. Peaked roofs are installed differently than flat roofs.
With most of these metal roof systems, there is no need to coat the roof with Kool Seal. These systems are designed to reflect the sun's heat. They come in many colors to match the home. They're fire resistant, which is a big plus in this or any other wildfire area. A good metal roof system will last almost twice as long as an asphalt roof.
If you take a look around the Lake Tahoe area, you'll see more and more high end homes with metal roofs. These are due to the reasons I just mentioned. You and I know that these homes sell for millions of dollars. Those homes are subjected to heavy snow, high winds, high temperatures in the Summer and wildfires every year. The metal roofing systems are also very economical to install. I say if the metal roof system is good enough for multi-million dollar homes, it's definitely good enough for any sort of home.
Maureen: We have a metal roof over with 4 inches of styrofoam insulation on a much older, 1973 home. Naturally, it's a flatter roof, with just a slight pitch. Our roof came through the storms just great! We weren't able to get a roof rake until it had frozen up there. As long as I kept breaking the ice damns off, the snow melted faster on our roof than other peaked roofs. Why?
Ken: That's simple, the flat roofs have no attic space to speak of. The heat from the home generates enough heat to the roof to keep the snow melting at a slow rate. The metal roof combined with the styrfoam work to absorb the heat. Flat roofs also got more sun during the breaks in the storms. Peaked roofs, might get 4 hours of sun on one side and 8 hours on the other side. Typically, peaked roofs have a few feet of attic space with very little insulation. The heat is not absorbed by the decking and asphalt singles. It sort of just escapes. You can see this effect on a very cold Winter morning. Those roofs will be covered with a heavy coat of frost. Newer peaked roofs will not be as bad.
Maureen: Let's talk about metal storage sheds for a few minutes. I noticed that my barn style sheds held up great with the snow, while my neighbor's peaked sheds collapsed? Why was that?
Ken: The barn styled roof has more exposure to the sun. Barn styled sheds normally have more supports in the frame than peaked roof sheds. They can carry a heavier snow load. They also hold up much better in high wind areas than peaked roof storage sheds for the same reasons.
This concluded our roof discussion. I thought it was very interesting! Ken asked not to use his last name or the name of his business, as he does not work on mobile homes anymore. He did give me a link for some roofing articles out of Western Roofing Magazine. If you scroll down a bit you'll see some articles on metal roofing. http://www.westernroofing.net/regular_columns.htm
PICTURE OF THE MONTH
In some parts of the country, you can't bring in a home unless its put up on stilts. No exceptions allowed for old mobile homes!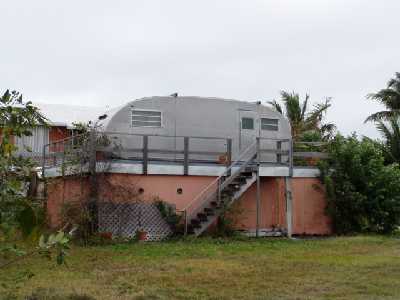 TIP OF THE MONTH
Car Ports
If your spring project includes a new metal carport, consider opting for the extra corner bracing. The corner bracing will add strength and durability to any metal carport.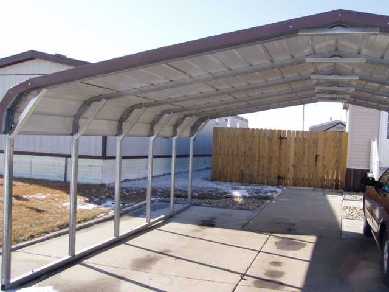 Thanks,
Mark.