A mobile home floor plan is one of the most important aspects of a manufactured home. After all, you will have to "live with it" for years to come. How you enjoy and use your home is tightly connected to the space, rooms, layout, and design of your home. The days of a simple single wide mobile home floor plan with a kitchen and living room on one end and bedrooms on the other are mostly history. With hundreds of mobile home manufacturers with thousands of mobile home floor plans to choose from the options are plentiful.
Whether you are remodeling or buying a new mobile home, the floor plan is likely one of the most important factors in your decision. So, what makes for a great mobile home floor plan?
Choosing the Right Mobile Home Floor Plans
In the same way that people choose their outfit, people choose their homes. Every person's wants and needs are different so it very difficult to "recommend" a single manufactured home floor plan. But, that doesn't mean there aren't considerations that are universal. So, what things should you consider when choosing mobile home floor plans?
What size home is right for you and your family? It is easier to make that decision for now rather than the future. Will you be adding people to your family, taking care of aging parents, helping young adults just getting started, or just entertaining friends from time to time? Try to choose your size based on the future, not the present.
What kind of home fits your neighborhood and site location? It is always a good practice to make some kind of attempt to match the neighborhood. If you are surrounded by small starter homes, it may not be in your best interest to buy a premium doublewide floor plan with all the upgrades. It is unlikely you will recover many of those extras if you chose to sell. Also, it is important that you understand your site location limitations. Setbacks, grade levels, and access to utilities can significantly change the options and layout of your home.
What are the must-have floor plan features?  This is something you probably should sit down with your significant other and review in detail. How many bathrooms and bedrooms are needed at a minimum? Do you want a workspace? Room for a kitchen island a must? Knowing these things before starting your search will be helpful in sorting through the thousands of mobile home floor plans available.
What are the would-like-to-have floor plan features? Just like above except these would be considered "bonuses" or tie breakers while comparing manufactured home floor plans. Large window in the master bedroom? His and her closets? Two sinks in the bathroom? Room for an electric fireplace?
Will you be buying new furniture or using existing? Nothing is more troubling than coming to the conclusion that your favorite chair simply won't fit in the living room. Buying new furniture to fit the floor plan is considerably easier than retrofitting existing furniture. Regardless of what you choose to do, take special care to sort out how your new floor plan and furniture will work.
Trust your instincts on what feels right. It is common that too much weight is put into "recommendations" and "what is popular." Trust your gut on what is the best fit for you. After all, you have to live there, not the people who offer their advice.
Know your budget. Only you know where your finances are. Choosing the right floor plan for your mobile home means leaving your finances in good standing after the purchase. But, it happens to the best of us. Oh, it is just $25,000 more for this one. That $25,000 comes out to an extra $150 a month on a 20-year mortgage at the current 4% interest rate (7/2017). That means it will cost you $36,000 once the loan plus interest is paid back.
Know that floor plan modification may be an option.  The mobile home floor plans that you look at need not be perfect. In some cases, they can be modified slightly either at the factory or certainly after installation. Often we find that modifications are less costly when done a la carte as they often are considered upgrades and/or part of a package which increases costs significantly.
What aspects of the floor plan are most important to you? Privacy, workspace, playrooms, storage, outdoor living potential, etc. This will help you prioritize certain floor plans over others as you begin your search.
Mobile Home Floor Plans – Examples
The gallery below shows some of the most popular floor plans across the country. Keep in mind that state and local regulations may limit the features of a floor plan while certain mobile home floor plans may not be available in all areas.
Single Wide Mobile Home Floor Plans
Singlewide mobile homes can be as small as 400 sq ft. and be as large as 1,400 sq ft. The width of single wide manufactured homes varies between 10 ft to 18 ft. The length is even more varied with models measuring as little as 35 feet and as long as 90 feet. The most used dimensions for single wide mobile homes is approximately 15′ x 72′ (1080 sq ft.)
One Bedroom Floor Plans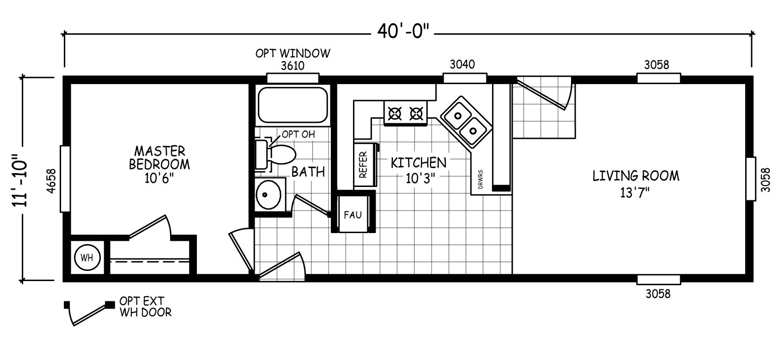 At just 474 square feet, this single wide floor plan from Cavco West Homes is one of the smallest floor plans available today. Now, this is not likely to work well for a growing family but for empty nesters or first time home buyers, this may work well. This design is similar to that of an extended stay hotel. It lacks space for a washer/dryer and much of the storage space that most us would need. Even so, this is a very popular setup for retirees in Florida and Arizona.

At 687 square feet, this floor plan from The Home Outlet shows what 200 extra square feet can mean in terms of space and features compared to the previous floor plan. With this layout, you get a 40% larger bedroom, a separate half bath, space for a washer/dryer, breakfast area, and a separate pantry. Not to mention the extra living room space.
Two Bedroom Floor Plans

This 2 bedroom, 1 bath floor plan from Fleetwood comes in at a lean 639 square feet. It offers the option of extending the width of both the living room and the bedroom if needed to add more space. Similar to the previous floor plans in the one bedroom category with the main difference the addition of a bedroom on the opposite end of the master bedroom.

This 2 bed, 2 bath floor plan from Clayton Homes offers 1066 square feet of space making it one of the larger 2 bedroom manufactured homes available. As you can see above, the extra space yields a large utility closet, extra bedroom storage, a 2nd full bathroom, and extra space off the kitchen for a dining table.

Three Bedroom Floor Plan
At 902 square feet, the 3 bedroom version of the previous floor plan is also from Clayton Homes. It is proof that you can fit a lot into a single wide mobile home floor plan. Though the extra bedrooms are small, they should allow ample room for children or single sleepers. This floor plan is on the lower end of the spectrum of square footage for 3 bedroom mobile homes.

The floor plan above from Karsten Homes is 1,108 square feet. It is very similar in layout to the previous floor plan from Clayton Homes. The layout is more cut up and the master bathroom and closet are much more feature rich. The result is you end up with less living space but perhaps more functional space.

At 1,178 square feet, this floor plan from Franklin Homes features a great layout. At 15+ feet in width, it leaves enough room for a kitchen island and a hallway leading to the 2 extra bedrooms. The floor plan allows for ample privacy for a family. It also has a large utility room and closets for both bedrooms.