Protect your home from potential water flood damage: keep a "Leak Alert" leak detector anywhere a potential for water leaks exists.
Undetected, a leaky pipe or water heater can cause thousands of dollars in damages to a manufactured home. A water leak detector can help announce those leaks before damage is done.
The "Leak Alert" detector is an inexpensive device that warns when water is present. Simply install a 9 volt battery and place the detector near a potential source of leak. No wiring needed. If water is detected, a 95db alarm will sound. The "Leak Alert" will float and signal for up to 72 hours. There's even a beep to indicate a low battery.
INSTALLATION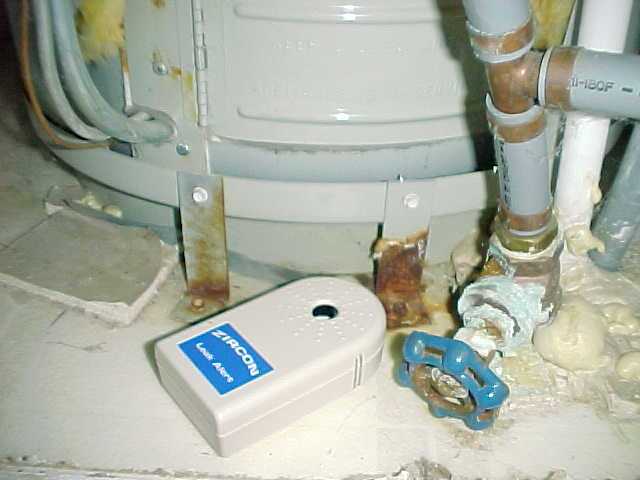 To install the leak detector, simply insert a 9 volt battery and place near your water heater, dishwasher, washing machine, sump pump, fish tank, pipes or anything else that you fear may leak.
Pictured on the left is a "Leak Alert" placed near a water heater and a corroded shut-off valve.
"I first learned how well this device worked when a customer called and said she had installed the "Leak Alert" near her water heater. The "Leak Alert" had sounded, and further inspection showed the water heater had begun leaking".