Make Your Own Mobile Home Steps
You know that buying online or in a store is easier, but you don't have the budget nor the interest in that. We get it and often feel the same. So, where do you start on building your own. Well, you could hire a contractor or you could layout your plans and build it from scratch. Building stairs can be a challenge if you have never done it before. We would encourage you to follow a guide like the one found at Doityourself.com or DIYnetwork.com if you are new to it.
Tools needed for building your own stairs:
Saw (circular saw or mitre saw is best)
Square (Large enough to lay out a stringer)
Tape Measure
Hammer (or Nail Gun if you are so lucky!)
Galvanized Nails or Outdoor Screws (Screws preferred – will likely need 3 inch and 1.5 inch screws)
Electric Drill
Gravel, Pavers, or some other foundation material (concrete pad)
String and Stakes
Gloves and Eye Protection
If you find yourself wondering what one or more of these tools or supplies is, be very careful and considering asking someone who does for help!
Planning is 90% of the Job
Ever heard of measuring twice and cutting once? That same principle comes into play when planning the layout of your mobile home steps. There are several tools online that can help you measure, calculate and plan your stairs so that you don't end up having to buy excess material because of a mistake.
There are also mobile phone apps to help in real time:
The part that most people struggle with is cutting the stringer. If you are comfortable with carpentry but are concerned about laying out the stringer, consider buying a pre-cut stringer for your mobile home steps at your local Home Depot, Lowe's, Menard's or local home improvement store.
Safety and Code Rules
It is very important that any stairs you purchase or build comply with all local building codes. Most local building departments make this information easily attainable. Failure to do so could put you, your family, your friends, and anyone who uses the stairs at risk. Also, you leave yourself open to a huge potential liability.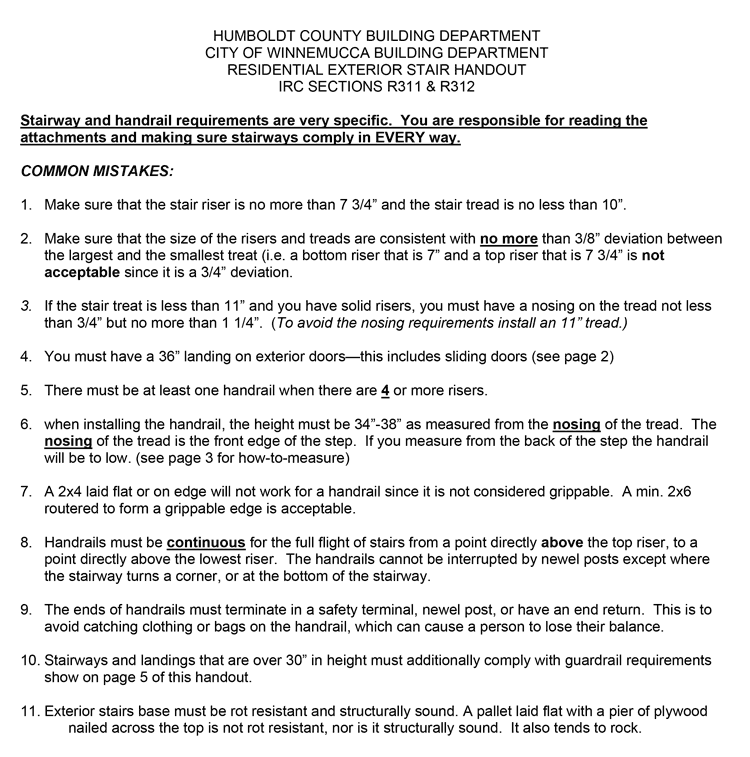 Above you will find a page from a handout provided regarding stair and railings for residential use for a county in Nevada. You can read the entire document here (if that link is broken try here).
Further Information on Mobile Home Steps and Stairs
What we have provided here is a great introduction and overview to understanding the basics of stairs and steps for a manufactured home. But, there is much more to learn and we encourage you to continue your research.
NRHA.org – Building Outdoor Stairs