Guaranteed to patch small and medium holes in any type of underbelly.
If you are confused about which product to repair your type of underbelly, then this product will end any confusion because it works on all types. If you've tried Flex-Mend™ repair tape with limited success, then you'll love this product because it works every time on every type of underbelly!
What is an underbelly?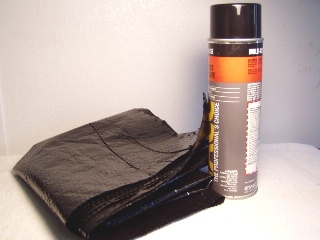 The underbelly of a manufactured home has many terms. By definition, it is the bottom side of a manufactured home. It protects the insulation and keeps out moisture and varmints. Underbelly has several names such as bottom board, belly, barrier, bottom wrap, sheeting, belly paper, closure paper, belly board — you get the picture.
Patching an existing underbelly.
If your existing underbelly has small to medium-sized holes or tears, this kit will do the repairs. For larger holes, you may wish to install a new piece of polyethylene underbelly. To repair:
1) Cut a piece of the enclosed repair material slightly larger than the hole being patched.
2) Clean and dry around the area to be patched. Don't skimp on this step!
3) Add fiberglass insulation to the hole.
4) Spray one side of the cut piece of repair material.
5) Spray the area of the underbelly to be patched.
6) Wait 2-4 minutes then apply the material to the underbelly and smooth out.
Shake well before using. Work fast as your total working time is 10 minutes. Works best if temperatures are 50 degrees or above. Bonds porous and non-porous materials.
Watch this video for installation tips: